I am the first person to admit that Sylvan lake is not in the top 10 places I would want to take a beach vacation. But, when my hubby had to have a radioactive iodine treatment done for his thyroid cancer. We figured it would be easier for the kids and me to take a close to home vacation. Then try to keep the kids away from him. So, I invited my old roommate from Banff and her son to come along. And we headed off on a Sylvan Lake beach vacation.
*This post includes affiliate links. See PRIVACY AND DISCLOSURE POLICY for more info
Deciding on location
My only booking criteria was that it had to be within 2-3 hours from Calgary. In case, I needed to rush home for hubby. My first thought was to go to Banff. I had lived there for most of my twenties and still miss it every day. But I couldn't find a hotel under $500 a night. So Banff was out! I looked at a few other places but decided on Sylvan Lake. I had heard of it before, but never thought to go. My hubby had been years ago with friends but wasn't too impressed.
I was booking somewhat last minute and wasn't able to get the original dates I had wanted. Which ended up being a good thing. Originally, I had wanted to arrive on a Friday night and stay the weekend. But, all I could book was Sunday to Tuesday.
And I soon found out why. Weekends in Sylvan Lake are crazy busy. When we arrived on Sunday afternoon to check in the town was packed. Not a parking spot to be found. Don't get me wrong I figured Sylvan Lake would be busy in July and August but we went in June. Apparently (according to some locals we talked to) it was the first good weekend in a while.
Sylvan Lake Accommodations
When I was booking our accommodations, I had narrowed my choices down to two. One was a newer condo with more bedrooms but farther away from the beach. And the other was much smaller, older cabin but close to the beach.
I ended up booking the smaller cabin because I knew I didn't want to haul a crapload of stuff to the beach. Or have to drive and find parking. We had ended up taking my hubby's truck. So that we didn't have to take two vehicles and let's just say I'm not great at parking it. Also, I wanted something close enough that we could go back and take naps during the day.

If you're wondering, yes you can fit 3 car seat in the back of a Toyota Tundra.

What the Sylvan Lake map doesn't show you is that there is a great big hill up 50th street. (Not 50th ave) Which happen to be the street with a lot of the other rentals on it. Yes they are only 5 to 10 min walks away from the beach. But even the thought of dragging kids up this hill would be the end of the vacation.

Here is the cabin we stayed in. *Affiliate link
The cabin is super cute and cozy. Yes, that's a nice way of saying small. But it was excatly what we were looking for. We had no problem sleeping 2 adults and 3 kids. (10months, 3 and 5) in it. The kitchen lacked seating for all of us, but we knew that we weren't going to be doing a lot of cooking. So the size really didn't matter. However, I had brought a foldable picnic table for the kids which we did end up using quite a bit.
Pros:
Super close to the beach, restaurants, and attractions.
It had a backyard the kids could run around in
It had a washer and dryer. A complete bonus for people with kids
Super friendly hosts
Cons: (all of these are expected with the size and type of building)
No kitchen table
The bedroom was small and it was hard to walk around the bed.
No air conditioning
Our Favorite Sylvan Lake Beach Vacation Activities
1. Sylvan Lake Beach
If you go on the weekend go early to get a good spot.  We found the best spot was just down the street from our rental.  
2. Lakeside Go Carts
The kids absolutely loved the go-carts.  They have ones for the smaller kids, which I haven't seen before.  We pretty much went every day we were there. And for days after the kids keep on asking if we could go back.  They also have mini golf and bumper cars. But our kids were a bit too young, so we didn't check it out.
Website: http://lakesidegokarts.ca/
Hours of Operations:  June 15-September: 10 am-10 pm
Address:  5324 Lakeshore Drive Sylvan Lake, AB
3. The Big Moo Ice Cream Parlor
You got to stop for ice cream at The Big Moo Ice Cream Parlor.  The sheer number of flavors was crazy.
Facebook Page:  https://www.facebook.com/BigMooIceCream/
Address:  4603 Lakeshore Drive Sylvan Lake

4. Go for coffee and donuts
The only reason I found out about the huge hill on 50th street was that I had wanted to check out a coffee shop, which happens to be on 50th street. I had read somewhere that Timber's Coffee Co. served gluten-free donuts. And I had to try them. Sure on the map, it doesn't look far. But pushing a double stroller with two 25 lbs kids uphill, it was a mountain. Not my idea of fun.  Thank goodness there were donuts.
Facebook page:  https://www.facebook.com/timbercoffeeco/
Address:  4425 50th St. Sylvan Lake, Alberta T4S1J9
5. Relax
We didn't over plan things to see or do.  We leisurely strolled through town, stopping in a few shops.  The town completely emptied out by Monday and was quite relaxing. On one of our strolls, we came across a lighthouse. Which makes no sense on a lake, but the kids thought it was cool.
History of the Sylvan Lake Lighthouse
Tips on booking an awesome Sylvan Lake Beach Vacation
Tip 1:  Avoid Weekends.  Book mid week if possible. Or arrive early to get a parking spot and a spot on the beach.
Tip 2:  Book accommodation close to the beach. You will thank me later.
Tip 3: Bring your own food. We didn't find any amazing kid friendly restaurants.
Sylvan Lake Attractions: We would have checked out if our kids were older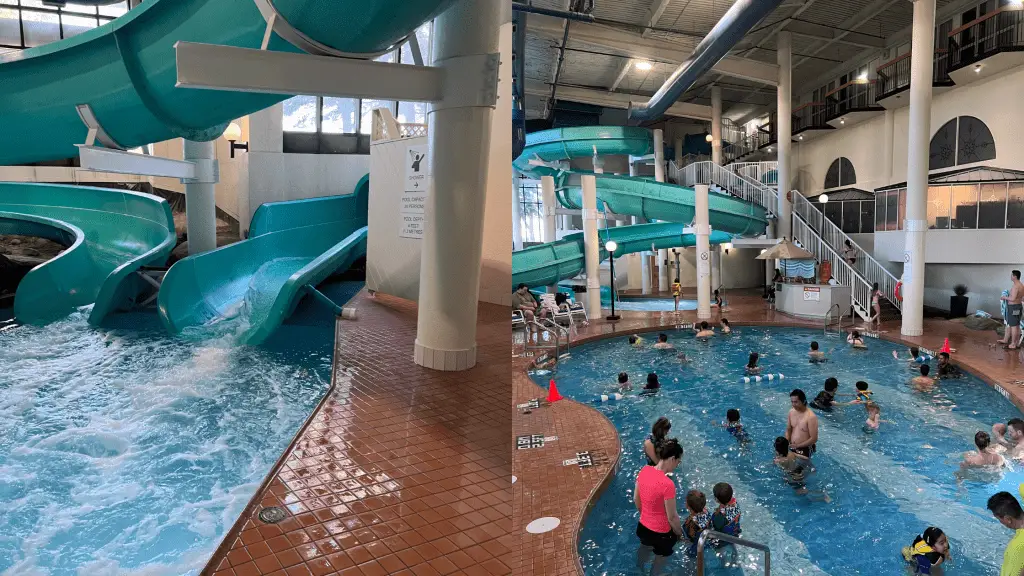 For our oldest 9th birthday, we didn't feel like tracking up to West Edmonton Mall…