For our oldest 9th birthday, we didn't feel like tracking up to West Edmonton Mall Waterpark for the night. So we decided to look for some hotels in Calgary with water slides instead. But, trying to find a good hotel with a waterslide can be tricky. You don't want to end up at some dumpy place with a sad excuse for a pool. That's why we wanted to write this review on the Sheraton Cavalier Pool.
I found three excellent alternatives, the Best Western Port O'Call in NE Calgary, the Sheraton Cavalier in NE Calgary and the Deerfoot Inn and Casino in South Calgary. They all had pros and cons, but we stayed at the Sheraton Cavalier. 
Initially, we were going to book the Best Western Port O'Call. Because we live in Airdrie and didn't want to drive to south Calgary. Oh, and because of the complimentary continental breakfast. But after consulting with the local moms' Facebook group on what was the best waterslide hotel in Calgary, we decided on the Calgary Sheraton Cavalier. 
Why, you might ask? 
Here's what the moms said about the Sheraton Cavalier Pool vs Best Western Port O'Call pool. 
While both hotels have two water slides, often, the Port O'Call only has one slide running. Which can cause quite the wait to go down depending on how many families are there. 
The waterslides at the Port O'Call empties into the main pool. In contrast, the Sheraton's waterslides empty into a small shallow pool. No need for life vests for our kids! Bonus!
Sheraton Cavalier Pool was a bit dated.
Both pools can get very busy on weekends.
The moms also mentioned that there was nothing to eat around the Best Western Port O'Call. Whereas the Sheraton Cavalier has many restaurants within walking distance. But, the Best Western Port O'Call has two on-site restaurants. Or there are always food delivery services like Skip The Dishes. 
Since the grandparents were coming with us, we decided the Sheraton Cavalier Pool and Hotel would be the best option. We book two adjoining double bedrooms for the Sunday of May Long weekend. Our notes on the hotel are below, after the Sheraton Cavalier.
Calgary Sheraton Cavalier Pool Review 
After checking in, we immediately put on our swimsuits and headed to the pool. The entrance to the pool area is beside the lobby check-in on the main floor. Before entering the pool area, pool towels are available on a table—limited to one per person. And you drop off wet towels at the top of the stair when you exit. 
We didn't need to give our room numbers in the evening. But there was an attendant at the towel table checking room numbers in the morning. You just needed to provide them with your room number; you didn't need to show your ID or anything. 
There was plenty of seating for people who didn't want to go swimming. Chairs and tables were available in the viewing area. There were a few chairs down by the pool. Both times we went to the pool, they were all taken. Not sure at what time you would have to get there to get one of these spots. But, if you are not swimming, then these spots are wet, and you're definitely in the splash zone. 
Main pool
The pool water was at a reasonable temperature. Tad bit cold for me, but I am a hot tub girl. But no one seemed to mind the pool temperature. The pool's shallow end is 2.6ft, with one set of stairs. The deep end goes down to 7ft 7inches, with two ladders up on both sides. A rope separates the shallow end from a deep end at 4ft. But kids mostly hanged on it.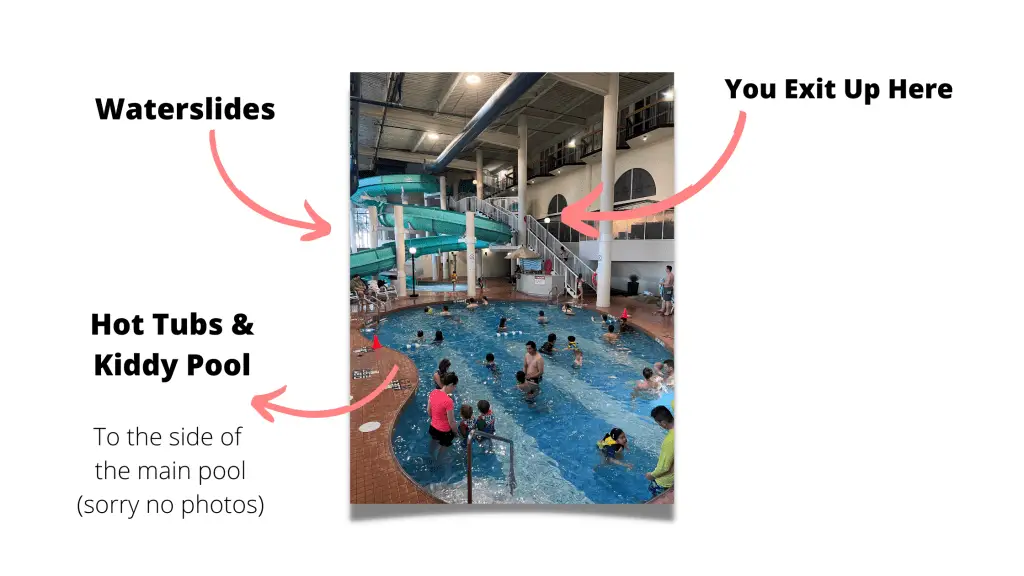 Kiddy pool
There is a small kiddy pool beside the main pool. This pool is approximately 2ft deep with a bit warmer water. We didn't spend much time in it, but toddlers seemed to like it. 
Hot tubs & Sauna
There are two hot tubs beside the main pool. You have to go up only a few stairs to access them. The lower hot tub allows you to look out over the pool, which I liked. There are many level areas to sit, which is a bonus for a shorter person like myself. The Sauna was closed when we were there. 
Watersides
The Sheraton Cavalier pool has two waterslides, one higher than the other. Both times we went, there was no attendant at the top. Kids kind of just waited a few minutes before going down. There is no lifeguard on duty but a person with a whistle watching the bottom of the water slide. The whistle was blown often, and the attendant seemed on top of kids abusing the rules. The lower slide appeared to go a bit slower than the higher slide. Overall, both watersides were great, and the kids didn't seem to get bored of the slides.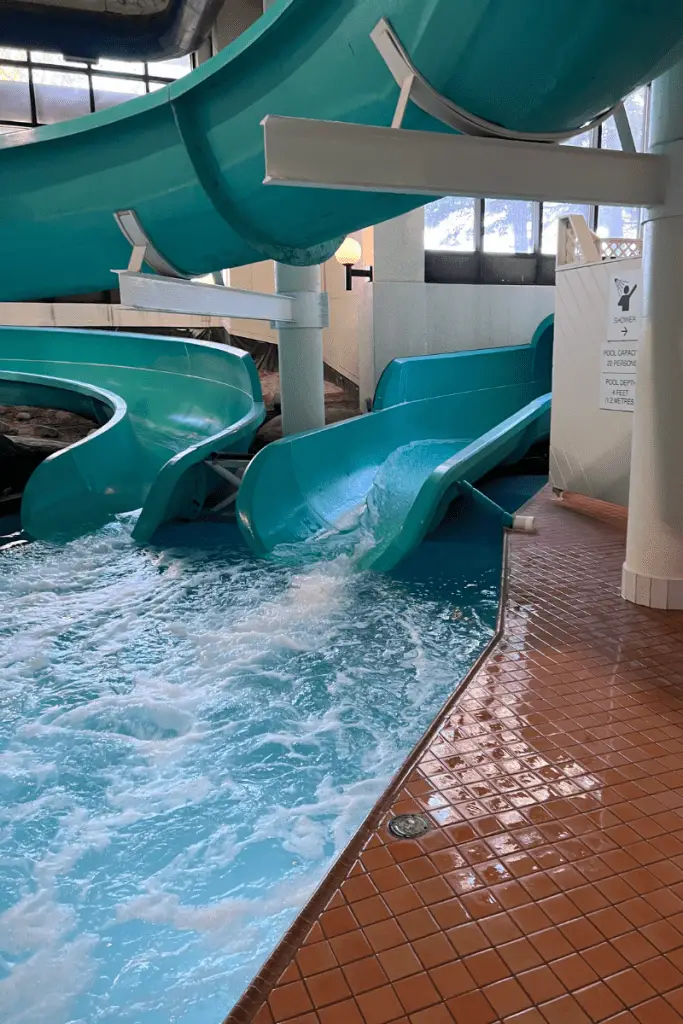 Life vests
Life vests were available at the Sheraton Cavalier Pool. They were located by the waterside area. I don't know if you had to rent them, but most people brought their own. Not much room for floaties or pool noodles but no sign saying you can't bring them. 
Accessibility 
There is a small set of stairs down to get to the main pool. But you have to hike up the large staircase, the same staircase used for the water slide when you want to exit. You will exit on the second floor of the hotel. Beware, the stairs can get wet and slippery. I would say that the Sheraton Cavalier pool is not accessible friendly. 
Drink Bar
The Sheraton Cavalier pool viewing area had a drink bar where you could buy water, pop and even alcoholic beverages. As far as we could tell, it was only open from 5-9 pm, and you could only charge items to your room. 
Hotel Review
First of all, make sure you book a room with pool access. The price of the rooms is the same, for pool access or no pool access, so I am not sure why you need to, but you do. Probably a strange Covid regulations thing. And they do they check, so make sure you book a pool access room. 
I called at 11 am to see if we could get an early check-in. But I was told the hotel had been fully booked the Saturday night due to the long weekend and could not accommodate. Fair enough. And to be honest, their check-in is at 3 pm, not the industry standard of 4 pm. Plus, their check-out time was noon. Leaving you plenty of time to swim in the morning.
There was a ton of free parking, and I didn't even need to leave my license plate number. However, there were many anti-theft signs in the parking lot. So make sure you lock up your vehicle. I guess it is NE Calgary.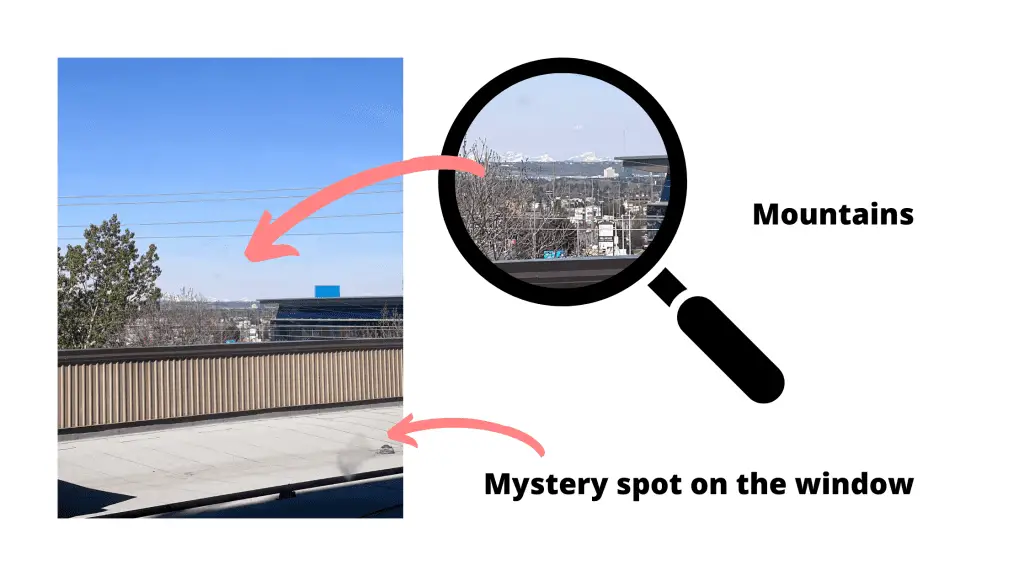 Hotel Room Review
Overall the room was fine—nothing fantastic to say. We found that the bed skirts were dirty or stained, but the sheets appeared clean. Not sure why they would use white bed skirts. 
The room had a safe, but ours didn't work. Luckily our adjoining room's safe worked, and we put everything in there. 
Not much of a view, but we didn't come for the view, to be honest. But, if you moved to one side, you could see mountains, which is impressive since we were in NE Calgary. 
I liked how the bedside table had outlets on both sides so that you could plug in your electronics.
The shower had minimal water pressure, making washing my daughter's long thick hair difficult. 
The beds were comfy, with plenty of pillows.
My father-in-law's room key stopped working, but we just went through the adjoining room. To be honest, this one could be classified as human error. 
The room had the tiniest fridge I have ever seen. Don't plan on putting leftovers in it. You could only fit a few drinks, and that's about it. See photos.
The noise level was good. The noise level was surprisingly good since our visit was during the Flames vs Oilers playoffs. We only heard a noise when the pool was closing, and people were heading back to their rooms. After that, it was quiet. You couldn't hear any road noise. 
We didn't use the fitness center or go to the pub or lobby bar.
No free breakfast. Boo. The restaurant had a breakfast buffet set up, but it wasn't on the menu, and we weren't offered it. Only after we ordered did we see people eating from it. So maybe it was part of a hotel package thing. I don't know. I got a ham and cheese omelette. It was ok. Basically, what you would expect. The restaurant was able to accommodate a gluten-free diet. I could swap out the hash browns for a bigger fruit cup. And they even had gluten-free toast. Score!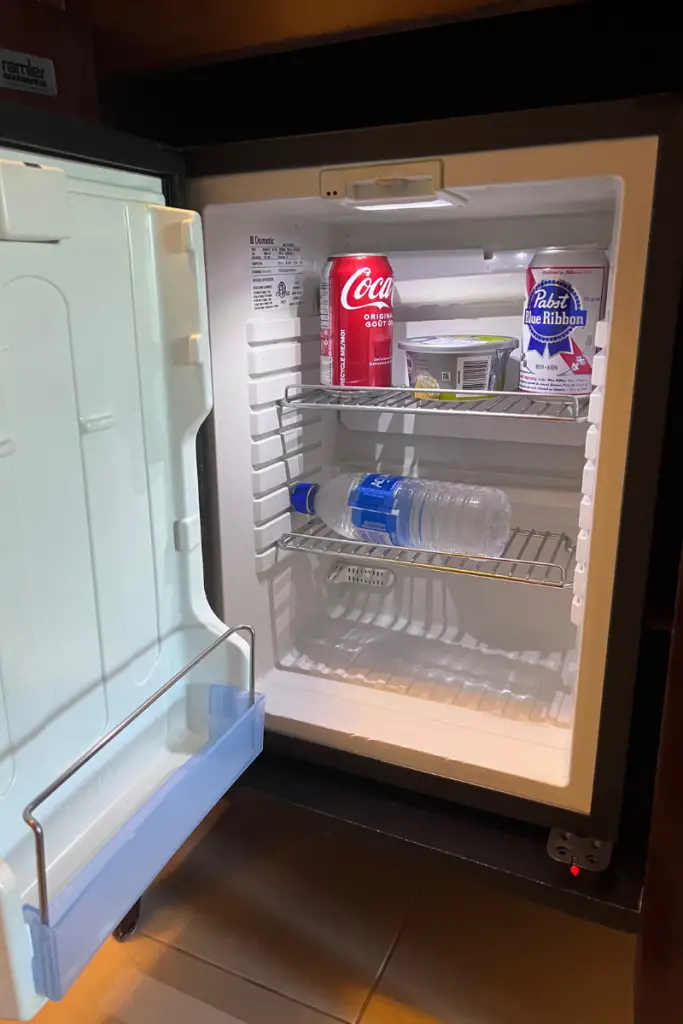 Restaurants close to Calgary Sheraton Cavalier.
If you're looking for a bite to eat while staying at the Calgary Sheraton Cavalier, there are several restaurants within walking distance. For a casual dining experience, head to Paul's Pizza or Tony Romas. If you're in the mood for something more upscale, check out Earls Kitchen + Bar or Joeys. And if you're craving Beef, CattleBarons is an excellent option and is located across the street. You'll find a delicious meal close to the hotel no matter your taste.
Overall, if you're looking for a fun little vacation with the family, we would recommend Sheraton Cavalier Pool in Calgary. Our kids loved playing in the pool and going down the waterslides. We all had a blast! The Sheraton Cavalier pool staff was friendly and welcoming. Although the facilities were a bit dated, they were well maintained and clean. We recommend checking out this poll and hotel during your next visit to Calgary!
Thanks for checking out our Calgary Sheraton Cavalier Pool Review.