Looking for Coffee hashtags? I got them!
I am always amazed at people who say that they don't drink coffee.  Maybe amazed is the wrong word.  More like in utter shock.  Who doesn't drink coffee?  And who doesn't love sharing their coffee addiction on Instagram?  Not me.  So to help out my fellow coffee freaks, below are the best coffee hashtags I have found.
Use a few or a lot of them.  Just remember to check the hashtags out before you post.  Things could have changed since I wrote this post. And I don't know if shadow banning is still a thing anymore, but you might want to check if the hashtags are still relevant.  
Although in the last few years, I have switched my regular morning coffee to mushroom coffee.  I have always loved coffee. Going to coffee shops have always been something I have done.  A little tradition that I now have even passed on to my kids.
In high school, going out for coffee was "our thing."  My group of friends would meet at the local coffee shop and just sit for hours.  We chatted about life, our goals or the latest highschool gossip.  The best part was the free refillable coffee.  
While I don't have the closest relationship with my mom, some of my favourite memories were when we would stop at Starbucks. We would share a berry square and each sip on lattes.  Whether we chatted about stuff going on in our lives or just hung out in silence, it was always a good time. 
Some of the best memories I have with my kids are biking to the local coffee shops and sharing a treat.  Sometimes we walk to the local coffee truck when it comes to our neighbourhood.  The kids devour an artisan donut and I get specialty coffee.  We chat about what is going on at school or whatever is bothering them.  
Going to coffee shops is more about the experience than the coffee.  Experiences I often share on Instagram.  So enough rambling, here are the best coffee hashtags for Instagram I have found.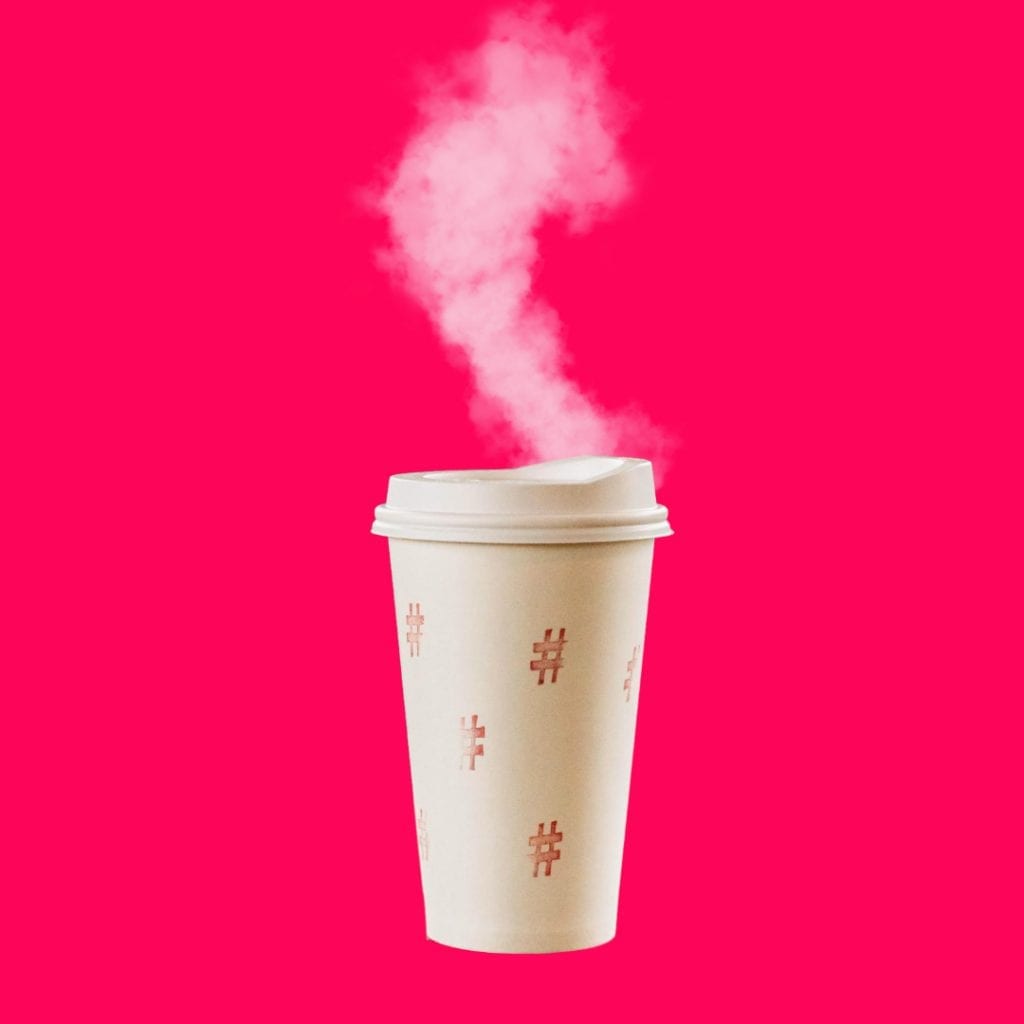 Best Coffee Hashtags  
Some are better than others, but most of our not too oversaturated.  Try to mix up the your hashtag list to include some popular hashtags with some less saturated hashtags.  
#coffeetime
#coffeelife 
#coffeeislife
#coffeelover 
#coffeelove
#coffeelovers
#coffeeaddict 
#coffeeholic 
#caffeineaddict
#caffeineaddiction
#coffeenerd 
#coffeefreak
#coffeefreaksunite
#coffeegeek
#coffeejunkie
#instacoffee 
#coffeegram 
#specialtycoffee 
#coffeebreak
#coffeemug
#coffeecup
#cupofcoffee 
#cupofjoe
#coffeeculture
#coffedaily
#freshcoffee
#coffeeoclock 
#ineedcoffee
#coffeestyle 
#coffeeculture
#coffeeheaven
#badcoffeesucks 
#ilovecoffee 
#caffeinefix
#saturdaycoffee 
#coffeedatewithmyself 
#butfirstcoffee
#coffeepeople 
#coffeephotography
#coffeeinsta
#morningcoffee
#needcoffee
#timeforcoffee
Coffee Shop Hashtags
#cafe
#coffeeshop 
#coffeeshops
#coffeehouse
#coffeeroastery
#coffeebar
#coffeeclub
Basic Coffee Hashtags 
#coffee
#coffeebean
#espresso
#cappuccino 
#latte 
#mocha
#caffeine 
#whitemocha 
#icedmocha
#icedlatte 
#icedcoffee
#caramel 
#mochaccino 
#hotchocolate 
#macchiato 
#frappuccino
#arabica
#arabicacoffee
Barista Hashtags
#barista 
#baristalife
#latteart 
#coffeeart 
#coffeeoftheday
#coffeebarista
#coffeeetymology
Coffee Mug Hashtags
#coffeecup 
#coffeemug 
#coffeecup
#mug
#coffeemugs 
#mugsofinstagram
 #mugobsession 
#muglife 
#disneymugs 
#disneymug 
#mugcollection 
#mugsofdisney 
#mugcollector 
#muglove
 #ilovemugs 
#mugs 
#muglove
 #mugsofinstagram
Funny Coffee Hashtags
Who doesn't love a coffee meme from time to time?  Although I don't really post memes on my page, I have posted a few in my stories.  
#coffeememes
#coffeehumor
#funnycoffeequotes 
#funnycoffee