Journal prompts to help you develop a What Makes Me Happy List
Sometimes we forget what makes us happy.   
It's not our fault.  We get so wrapped up in our daily lives that we forget to slow down.  We run on autopilot, chasing what we think will make us happy.  
We tell ourselves that "when this or that happens" we will be happy.  We get so focused on some future event, that we ignore all the wonderful things that make us happy right now. Sometimes it's even just the simple things that make you happy.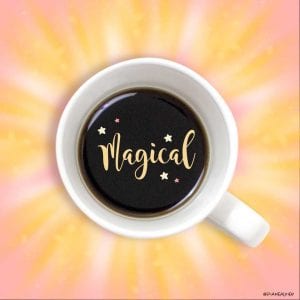 What makes you happy in life?
This happiness journal prompt is meant to help you think about all the awesome things that make you smile, make you laugh, makes you happy right now.  
Your happy list is not going to be like anyone else.  So even though I have included a happy list of examples below.  Don't just copy a few and call it a day. Really think about all the little things that make you happy. Then if you want you can narrow down your "what makes you happy list" down to your top 30.  
Why should you keep Things That Make Me Happy List?
The next time you're feeling a bit down come back to this list and celebrate all the things that make you happy. By just reading your list, you will instantly feel a bit better. You will remember all the wonderful things in life to be happy about. All the things that brings joy into your life. You will have a go-to list of things to do to be happy when you are in a funk.
Keep you happy list up to date.  When something awesome happens in your life, add it to the list.   And you don't have to stop at 30 things. Add as many things that spark happiness in you.    
If you are having trouble coming up with some ideas I have included a huge list of things you can include in your "Things that make me happy list."
Things That Make Me Happy List Inspiration
Getting Outside
Running, walking, hiking, climbing, skiing, fishing, or camping.  Ask yourself what had you enjoying doing outside a kid? Skipping, hula hooping or something as simple as chasing butterflies.   
Other outdoor happiness
Stepping on crunchy autumn leaves
Fresh powder days
Rainbows
Sunsets
Swimming in a lake or splashing in the ocean
Playing sports with friends
Appreciating the scenery
 Waterfalls
Skipping Rocks
Walking barefoot in the grass
Having a picnic with friends and family
A long walk in nature
Soaking up the sun on a beach
The taste of saltwater on your lips
Finding seashells
Moving your body
Do you feel amazing after working out? Think about all the ways you move your body that brings you happiness.
Yoga
Pilates
Zumba
CrossFit
Boxing
Jogging
Stretching
Dancing
Swimming
And don't forget about sex
Try something new you never know what will bring you joy. I have heard yoga with goats is fun.  
More Happiness Activities
Does getting lost in a book make you happy? Or can you spend hours painting or sketching?
Think about your hobbies.  Have you been neglecting your knitting projects? Or painting, drawing or DIY projects are your things.  Take a class to motivate yourself to get back into your hobby. (Photography, sewing, model trains or video games)
Reading
Writing
Drawing
Painting
Pottery
Crafts
Photography
Journalling
listening to podcasts
Scrapbooking
Colouring. Buy an adult coloring book.
Why not join a book club or attend a lecture on a topic that piqued your interest.  You never know where it will lead.  
Movies, Theater or the Arts
Do you love to watch a good movie? Or do you love spending the afternoon strolling through art galleries and museums?
Vintage horror movies
Girly movies on Netflix
Rewatching your favorite movies.
Going to movie theaters with friends
Checking the latest independent. film at a film festival.
Going to a comedy show
The newest season of your favorite show on Netflix.

Music
Does it make you smile when your favorite song comes on the radio?  Does listening to music instantly put you in a better mood? 
Listening to music 
Making music 
Singing in the shower
Go see a band play live.
Making a playlist for yourself and friends
Your favorite song coming on the radio.
Try making a list of songs that make you happy. Even make a seperate list of happy songs to add to your next playlist
Time of off & Travel
Are you passionate about traveling to new places you've never been to before?  Trying new foods? Does meeting new people make you happy?  
Going on vacations
Getting the window seat
Treating yourself to room service.
When the plane isn't full and you get the whole row to yourself
Hanging out with friends on the weekend
Lazy Sundays
Naps
Taking a day off work
Screen-free weekend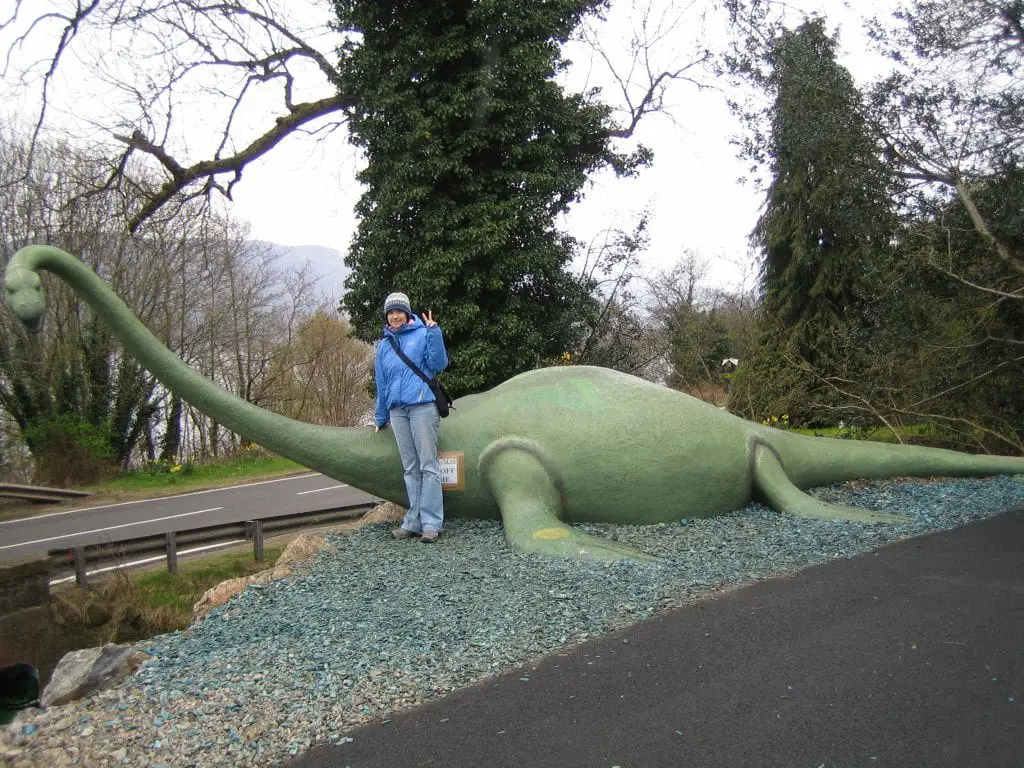 Maybe just spending time at home is more your style.  
Snuggling on the sofa with a loved one
Playing board games
Putting together puzzles
Napping and catch up on much-needed sleep. 
Cooking your favorite meals
Organizing your closets
Reading a book in bed
Having a hot cup a tea on a comfy couch
Redecorating your space
Clean sheets
Warm clothing out of the dryer
Vacuum lines in the carpet
Do pleasant smells make you smile?
Freshly made bread
Freshly cut grass
Freshly brewed tea or coffee
Bacon cooking in the morning
New car smell
Flowers
The smell of new books and magazines
Service to others
Does serving others bring joy to your life?
Volunteering for an organization that fights for a cause you're passionate about.
Doing something for others
People saying 'thank you' or a random act of kindness from a stranger
Donate Something. When you donate something, whether it's clothes, money, or other belongings, you can feel great knowing it's going to a good cause.
Food
Ok, this could be controversial but is there any food that makes you happy when you eat it? I know for me I love to go to a coffee shop and sit down with an Earl Grey Tea latte.
Pumpkin Spice Lattes on a cool fall day
Icecream on a hot summers day
Sunday suppers with family
Christmas Dinners
A glass of wine at the end of a rough day
Birthday Cakes
Cooking with loved ones
Trying new recipes
Going out to eat
Brunch with bellinis
List of Happy Emotions
Try exploring the following happy emotions with these additional journal prompts.
Joy: What brings you joy? When do you feel joy?
Confidence: What are you confident about in your life?
Gratitude: How do you show gratitude?
Amusement: What do you do for amusement in your life?
Serenity: What activities in your life provide you with serenity?
Interest: What piques your interest? What do you get excited about?
Pride: What are you most proud of?
Awe: What are you in awe of?
Inspiration: What inspires you? Where do you find your inspiration?
Love: Who and What do you love?
I hope you enjoyed this happy list journal prompt post. I know had an awesome time exploring all the things that brings a smile to my face. However, I don't think that are things that MAKE people happy, I think you CHOOSE to see joy and happiness in things. And CHOOSE to feel happiness in doing certain things.
Get You Free Happy List PDF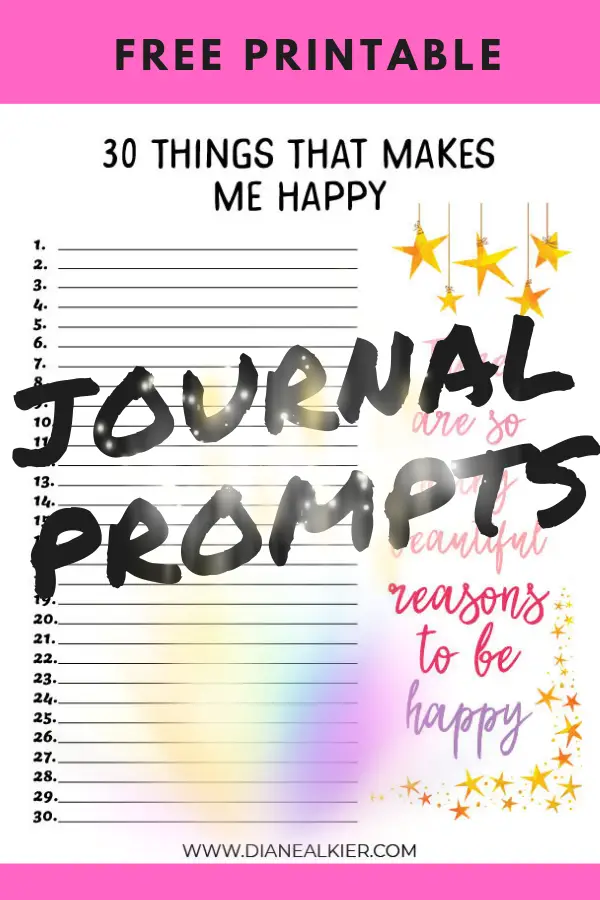 Check out this Post POSITIVELY TRANSFORM YOUR LIFE WITH JOURNALING to get started