Like everyone else, I was suckered into the everything bagel seasoning craze. 
And even though we Canadians don't have easy access to the famous Trader Joes Everything But the Bagel Seasoning that everyone is bragging about.  While you can get it shipped to Canada it is a bit pricey.
So, I ended up buying the Epicure Everything Bagel Seasoning a few months ago instead. But here's the thing. I have yet to use it.  
Primarily because I don't know what to make with it.  When I bought it I just figured I would just sprinkle it on stuff.  But never did.  There was never a time I thought, "oh ya I got that everything bagel seasoning I should use." I never knew what I would taste good on.
So I called in reinforcements!  
AKA blogging mommy friends. 
They always have the best recipes!  No more Pinterest fails here.
I've assembled a list of 10 appetizer recipes that use Everything Bagel Seasoning.
Why appetizer recipes? Because I always like to try new things out on a smaller scale than committing to a main meal. The last thing I need is hungry kids yapping at me because I had another recipe flop.
What is in Everything Bagel Seasoning?
Basically it is a seed blend consisting of Poppy Seeds, Sesame Seeds, Black Sesame Seeds, Minced Dried Garlic, Minced Dried Onion, and Sea Salt. While there are different variations these are the basic ingredients.
Fun Fact: No one really knows who invented the everything bagel seasoning. There are at least four different people who claim to be the inventors but no one knows for sure.
Top 10 Everything Bagel Seasoning Appetizer Recipes
1. EVERYTHING BUT THE BAGEL SOUR CREAM DIP
You gotta try this Everything but the Bagel Seasoning Sour Cream Dip. Not only is it a two-ingredient dip recipe, but it's also ready in 20 minutes!  Easy peasy lemon squeezy.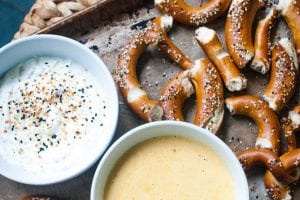 2. EVERYTHING SEASONED BAKED PITA CHIPS
Everything seasoned baked pita chips! Perfect for pairing with hummus. See the recipe below for easy homemade hummus
3. THE BEST DIY BAGEL CHIPS AND EASY HOMEMADE HUMMUS
The next best thing to a fresh Montreal bagel is crispy, crunchy, savory, garlic everything bagel chips. These chips are perfect for dipping in hummus, smoked salmon dip, roasted red pepper dip and more. Try them and see for yourself how addictive they are!
4. EVERYTHING BAGEL PIGS IN A BLANKET
Pigs in a blanket meets everything bagels..cooked in the oven and browned to perfection!
5. EVERYTHING BAGEL CHEESE BALL BITES WITH BACON
These Everything Bagel Cheese Ball Bites are the perfect bite sized appetizers for holiday gatherings, game days, baby showers or a girls night! These mini cheese balls are great with crackers, bagel chips or with pretzels.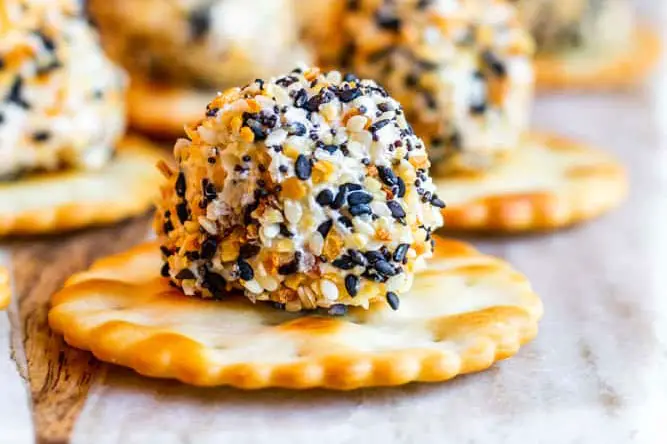 6. INSTANT POT DEVILED EGGS WITH SOUR CREAM
These sour cream and onion flavored Instant Pot Deviled Eggs with everything seasoning are a super tasty take on a classic. Ideal for serving up as party appetizers, protein-packed snacks, or a hearty game day nosh
7. AVOCADO TOAST PUFF PASTRY SQUARES
These Avocado Toast Puff Pastry Squares elevate the humble avocado toast to fancy brunch status. Bagel seasoning and a perfectly poached egg on top seals the deal!
8. EVERYTHING BAGEL SEASONED POPCORN
Everything Bagel Seasoned Popcorn makes a great healthy snack. This savory popcorn recipe will be your new favorite
9. EVERYTHING BAGEL VEGAN POTATO SALAD
Ok, I get that potato salad is not really considered an appetizer but this recipe was too good not to include. Personally I think potato salad is a meal in itself but whatever. Anyways this Everything Bagel Vegan Potato Salad is perfect for your next brunch or barbecue!
10. 4 INGREDIENT EVERYTHING CRESCENT ROLLS
4 Ingredient Everything Crescent Rolls take just 20 minutes to make! A flaky crust filled with warm herb & garlic cream cheese and a delicious Everything Bagel topping!!
I hope that this round-up of yummy recipes has given you a few ideas on what to use everything bagel seasoning on. And of course, you don't have to just use it in appetizer recipes. I have seen everything bagel seasoning used in salmon to frittata recipes. The possibilities are endless.
Check Out Some Other Amazing Posts