The truth is bullet journaling can be as cheap or as expensive as you make it. You can go out and buy the most expensive journal and pens. Or you can go to your local dollar store and get a basic notebook and markers. Whatever route you take, you have to admit that finding a cheap bargain is always exciting. So, the following are some of my cheap bullet journal supplies finds.
The journal
Yes, the journal is the only thing you really need. And you might be tempted to spend the most money on it. But if you are just starting out, save your money. And try a few of these cheaper alternatives until you explore your style. Instead of dropping serious coin on a Leuchtturm Bullet Journal start by practice your lettering or layout on a cheaper dotted journal alternative. Here are a few cheap bullet journals alternatives
Check out your local dollar store for a basic journal.
You may not be able to find a dotted journal at the dollar store. But a lined journal is a great way to start practicing your lettering. You can jazz up the cover with fancy wrapping paper or floral stickers. And even add page numbers.
Essentials Dot Matrix Notebook.
The pages are thinner than the more expensive journals. But it's a great basic dotted journal for beginners or people who are looking for a good deal.
Print your own practice pages.
If you buy a cheap blank journal you can easily glue in dotted paper to make a dotted journal.
No printer? Buy dotted paper. For under $10 you can buy a pack of dotted paper.
Pens
When looking for pens, you want ones that aren't going to bleed through the page. But if all you can afford is a thinner page journal, then regardless of the pens you might have some bleeding.
Basic fine tip pens.
Unless you're planning on doing some calligraphy. Stick to fine tip pens for writing. Check dollars stores or your local stationery store for deals. But the Crayola Fine Tip Markers make a great cheap alternative.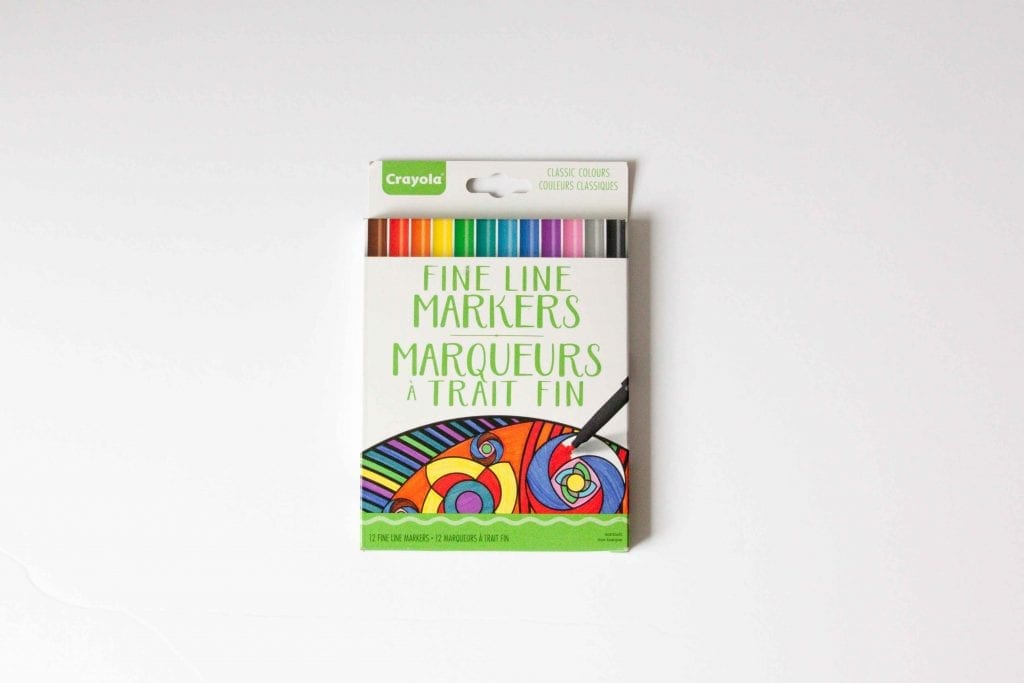 Stickers
If stickers are your thing. Try printing your own stickers on sticker paper at home. You can check out Etsy for digital download stickers. Beware the cost of printing. Sometimes this is not always the cheapest alternative. Always check the discount bin at your local hobby store. I have found some great deals there.
Elastic Closure
If you journal doesn't come with an elastic closure you can always use a hairband like this one.
Inside pocket
Here is a great tutorial on how to make your own inside pocket for your bullet journal. The video shows you three different ways you can make your own inside pocket.
Where to find cheap bullet journal supplies
Look in your local buy and sell group. I once bought a super cheap lot of washi tape from a lady looking to destash her collection. A few were used but a bunch were still in plastic.
Browse Facebook planner groups. Check out planners Facebook groups, a lot of them have a buy and sell associated group you can join. You may have to pay for shipping, so make sure its a good deal first.
Oversees – If you don't mind waiting for a month or so, check out Aliexpress. You can buy in bulk some super cute planner accessories. Especially washi tape.
Craft store on coupon days. I never go to Michaels without a coupon. Don't forget to download the app to make sure you get the best deal.
Thrift stores. I once found a happy planner punch hidden in the toy section of a thrift store. I was beyond pumped. Ever since then I always take a peek in the craft and stationery section for supplies. You never know what you'll find. If you are into stamps. I often have seen them there.
Don't spend a ton of money these bullet journaling supplies
Rulers
You don't need anything fancy. I like to have a small clear one. But anyone will do.
Stencils and Stamps
When I started out I bought stencils but I never thought they looked that great. Stamps are a better option. But they can be a pain to line up. Look for cheap used stamps to try out before making an investment.
Books on how to bullet journal
Ditch the how to bullet journal books and check out free YouTube videos. There are tons of different videos on how to set up pages. How to do funky lettering and more.
Pen Loop Holder
You can save some money on a pen loop by making your own. Here is an awesome blog post on how to make an elastic pen loop holder.
Hope this blog post helps you find some amazing deals. Let me know below in the comments if you have any other leads on where to find cheap bullet journal supplies. I am always looking for a good deal.